The Best Thing We Have Ever Done explained in 5 Minutes: Walgreens SVP Randy Lewis's oral testimony before Senate Committee on how its disability hiring initiative is changing the company and spreading to others.
http://www.youtube.com/watch?v=DYsn-mT6aYA
---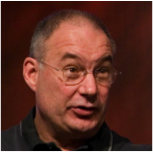 W
algreens has hired 1,000 people with disabilities in its distribution centers and it is now spreading to its stores and to other companies. This is how it started, the barriers and how addressed, what they have learned and how it has made them better.
www.nogreatnesswithoutgoodness.com/abstract
---